Hi From Su Polo: I'm published in this lovely online international Poetry and Arts Magazine: Levue Litteraire
To see my page go to: http://levurelitteraire.com/su-polo/
To see the main page (many poets! including Bob Heman) go to: http://levurelitteraire.com
a big thank you to Bob Heman and Erika Dagnino, Curator.
Also! I have a NEW ChapBook out available through me!  Beauty ~ Poems and Stories, Some Spiritual and Some Curious by Su Polo $10. includes postage.  Please let me know if you want one!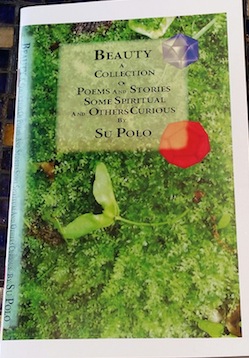 __________________________________________

THANKS! For coming to the
Vigil4InternationalPeace and Environment!.org
A full day of Free Fun! SEE YOU NEXT YEAR AROUND UN PEACE DAY!
Sunday, Sept. 20 at the Band Shell, Central Park 10am -5pm (72nd street) http://www.Vigil4InternationalPeace.org
Su Polo will be performing late morning with a host of international performers - This is a family friendly, day long FREE event for Peace and ecology.  Music, Dance, Art, Childrens' big drawings to do. Fun!  Join us for this great ceremony of Peace on the U.N. Official International Day of Peace.
_______________________________________________________________
Saturn Series Poetry Reading & Open Mike meets Every Monday Night!
Thanks to those who came to visit my sculpture:
Umbrella Reliquary II for FIGMENT NY 2014 on Governors Island Sat & Sunday June 7-8, 2014 only. http://newyork.figmentproject.org/
_______________________________________________________________
2015-THANK YOU to those who came to Figment.org on Governors Island June 6 - 7 only.
"Sparkle Window"

A Sculpture/Wind Chime by Su Polo - set up near the open mike hosted by David W. Jacobson by Castle Williams and across from the Gazebo. Figment is a fud day for a lunch outing with family and friends.

C'MON!
http://newyork.figmentproject.org/?utm_campaign=weekly_june_5&utm_medium=email&utm_source=figmentnyc
_______________________________________________________
The 22st Annual Alternative New Year's Day Spoken Word / Performance Extravaganza

PALABRAS LUMINOSAS / LUMINOUS WORDS

http://alternativenyd.org
This event was a great success! Thanks to all who came- January 1, 2016 The Alternative New Year's Day Poetry Extravaganza at Nuyorican Poets Café,
The Anthology is available by ordering online on our website, http://alternativenyd.org.
Set Creation by Joanne Pagano Weber with help from Douglas Collura.  Poster and Anthology creation by C.D. Johnson
_______________________________________________
Thanks for all who made this night a great success! Tuesday, Jan. 20th at 6 -7pm and Tuesday March 24, 2015... 7:30 - 9:30 pm
See below for additional engagements of this successful show!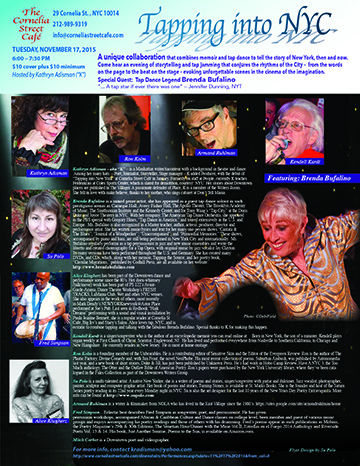 TAPPING INTO NEW YORK… is back! A unique collaboration that combines memoir and tap dance to tell the story of New York, then and now. Come hear an evening of storytelling and tap jamming that conjures the rhythms of the City – from the words on the page to the beat on the stage – evoking unforgettable scenes in the cinema of the imagination.
Feature poets to be announced

for our next show on July 7, 2016


info@corneliastreetcafe.com See you there! For more information, contact: kradisman@yahoo.com
_________________________
_______________________________________________




Next reading is
Monday May 2, 2016
Saturn Poetry Reading & Open Mike
Monday
May 2
AT
Shades of Green Pub & Restaurant
8 pm NYC
Featuring: Larry Littany Litt and Barbara Clark



plus open mike!


 Sign up to read your poetry in the open mike
...........................................
About

Larry Littany Litt

...

Larry Litt is a New York City born writer, poet and performer. His shamanically inspired poetic rituals are created to address historical and contemporary spiritual, political and social issues while suggesting how to strengthen the natural world around and within us. His work is documented in video and photography. In the 1993 Venice Biennale Litt performed the "VIDEO-MUDANG" ritual, sharing the award winning German Pavilion with Nam June Paik and Hans Haacke. He has since performed this tribute to fluxus art worldwide. It tells the story of Korean and fluxus artists who integrated their personal shamanisms into contemporary art. His reprise during the "Fluxus Mediale Festival" at Anthology Film Archives was hailed by critics as an interdisciplinary arts achievement. In his "BURN THE FOX" ritual, Litt asked participants to burn the books of Rupert Murdoch and his conservative political pundits appearing on Fox News television. Soon afterwards the Fox TV network began to make big mistakes in their political and corporate fascist news reporting. Mr Litt still hasn't apologized. Litt has a special interest in destroying the insidious book hoax "The Protocols of the Elders of Zion." His "HATE BOOKS" "HOLY FIRES" full scale theater ritual performance, along with its talismanic collage series, has been seen at the 2007 Moscow Biennale, in New York City"s at Emily Harvey Foundation's Blago Bung festival, Zurich's Cabaret Voltaire, Berlin's Momentum at Bethanien, Istanbul Bienniale and at New York City's MagnanMetz Gallery. "WE DON'T CARE WHO YOU ARE; LONG AS YOU GOT MONEY!" A Mock Fundraising Art Auction for and by Artists was performed at Long Island City's Dean Projects on May16, 2011. A photo installation and video accompanied the performance. Y Gallery in Jackson Heights NYC was the scene of Litt's original ritual "MAKING GOOD LUCK-ARTISTS SUCCESS RITUAL" which asked artists to declare their desires for a New York gallery exhibition. Gallery locations were chosen from The Monthly NY Gallery Guide, shamanically empowered by Larry Litt, then burned to send their desires in a cloud of smoke to the gods of art's chaotic nature. Live drumming rhythms awakened the Supernatural Forces of Art that decide who gets what shows. A mobile environmental performance titled, "STEEL CUP ART CARRY" is dedicated to reducing the world's waste paper and discarded plastic cups at art gallery and museum openings. Reusable steel cups are given to participants at art events. They can carry them to openings for the rest of their lives. Since 2001 Litt has written and produced 30 short films as part of his "THE BLAME SHOW" series. These films publicly examine everything from September 11th apocalyptic politics to religious hypocrisy and the global oil crisis. The videos were seen on Time-Warner cable television from 2005 to 2007. Beginning in 2008, Pratt Institute's Pratt Manhattan Gallery annually invites Larry to produce an annual political election night performance event titled Pratt Falls. It topically and poetically combines art and politics with artistic wit and fun. Larry Litt has performed in all eight "Blago Bung" festivals including at Zurich's Cabaret Voltaire anniversary celebration with original sound, music and word art projects. "TRIBUTE TO CABARET VOLTAIRE" was performed at NYC" Emily Harvey Foundation and will be performed in Riga, Latvia on May 22, 2014. Larry Litt is represented by MagnanMetz Gallery in Chelsea NYC.

About Barbara Clark...
I started writing poetry at an early age and it has always been a major passion and occupation.Because i lived near traces of the remains of early dutch farms,i developed a fascination for what i call "ghost archaeolgy" That led to studies in history and literature which influenced my writing especially my early work centered on greek myths and the renaissance. i eventually made my way to the actual world wit its unsettling problems and emotions.i started to write outside of traditional forms using stream of consciousness focusing on the different levels of awareness that come through in that method. line breaks related to the breath of a feeling and thought helped me to do this.i have also written a series on the various wars of the 20th century andhow we have victimized ourselves by/with them i have taught literature and writing but professionally i am a therapist in private practice.my work has appeared in some magazines but i have not written consistently because my work has taken so much time and energy.
Please buy a drink or Food to support this great venue.
...........................................
A Night of Extraordinary Wordsmiths.
Sign up to read your poetry in the open mike
at Shades of Green Pub & Restaurant
125 East 15 Street, NYC - In the back Room - Please purchase a drink and or food to support our reading at this venue.
Between 3rd Ave. & Irving Place... Take the 6NRQL to 14th Street


Listen to an archive of an interview with poet Susan Lewis by Bud Smith on Blog Talk Radio. Susan's recent book: State of the Union and Bud's: Toll Booth. http://www.blogtalkradio.com/theliteraryunderground/2013/09/24/the-unknown-show-w-bud-smith


Now In Our 21st Year! Every Monday Night


Also, Please see Ptr Kozlowski has posted the first video from May 5th up on YouTube. More to come. Thank you Ptr!
This is of Jay Chollick's great Feature at Saturn Series Poetry Reading on May 5, 2014
 https://www.youtube.com/watch?v=_P_fmKltBTA
also, This is the video of Peter Blaxill's great Feature at Saturn Series Poetry Reading April 21, 2014  https://www.youtube.com/watch?v=RYTfZmd5Nao

Saturn Series Poetry Reading & Open Mike meets Every Monday Night!
•
Saturn Series Poetry
Poetry/Spoken Word Reading

Every Monday Poetry Open Mike NYC
@
at
Shades of Green Pub & Restaurant
125 East 15 Street, NYC
Between 3rd Ave. & Irving Place... Take the 6NRQL to 14th Street
Starts at 8:00 pm to 10:30 pm, Sign up at 7:45.
5 minutes /person Open Mic plus 2 features.

Open mike surrounds features.

$3.00 donation requested plus a drink or Food purchase
to support this great venue.

Celebrating our 22nd year of Poetry Every Monday Night
Open Mike readers each have 5 minutes to perform their work
Plase arrive on time. (if you arrive after the features start you may have only 3 minutes to read.)
UPCOMING FEATURES...
Next Week -
Monday, May 9, Jay Chollick and Su Polo and Taurus Poets Birthday Party!

2016
* Monday Jan. 4 with With Tom Church, Michael Carter and Special Guest from Paris Moe Seager ( He is a writer and performance artist. Poet and Jazz & Blues vocalist! )
* Monday Jan. 11 with William Duke (one of the founders of Saturn Series!) with Evie Ivy and Alexandra Portal
* Monday, Jan. 18 with  Austin Alexis,  Bernard Block - MLK Day Theme": Commemorating Martin Luther King"
* POSTPONED to Be Rescheduled - Monday Jan. 25 with Ron Kolm, Mike Lindgren and Jim Boyett
* Monday Feb. 1 with    Richard Pearce and Erica Mapp
* Monday Feb. 8 with  The Society of Urban Poetry: a group reading ! Featuring DiDi Delgado , Navah the Butterfly, and from NYC: Debbie Kuhn AKA the Shadow & Jeffrey Coffin AKA Mel FOOP
* Monday, Feb. 15 with Senri Oe and TBA ** Will be rescheduled! **
* Monday, Feb. 22 with Jill Rapaport, Amina Ali, Rob Hardin
* Monday Feb. 29 with  Anthony Moscini and Janet Restino
* Monday March. 7 Linda Kleinbub and Burt Baroff
* Monday March. March 14 with Concetta Abbate & Dian Killian AKA DK and the Joy Machine
* Monday March. 21 with Susan L. Yung, Larry Roland & Ras Moshe Burnett
* Monday March. 28 with Ron Kolm, Mike Lindgren and Jim Boyett
* Monday April 4 with Francine Witte, George Wallace and Gabriel Don
* Monday April 11 with Susan Weiman and David Elsasser (former host of Saturn!)
* Monday April 18 with Christi Shannon Kline  and William Wolak and Yuyutsu R.D. Sharma
* Monday April 25 with Jane Byaela and Barbara Hall
* Monday May 2 with Larry Littany Litt and Barbara Clark
* Monday May 9, Su Polo and Taurus Poets Birthday Special with Jay Chollick
* Monday May 16 with Deanna M. Lehman and TBA
* Monday July 18 with Tentatively - Dianne Borsenek and TBA
* Monday September 12 with Angela Kirby Visiting from the UK
* Monday September 19 with Ellaraine Lockie, Juanita Torrence Thompson and Cindy Hochman

And more every Monday night

Be the happiness you are today!